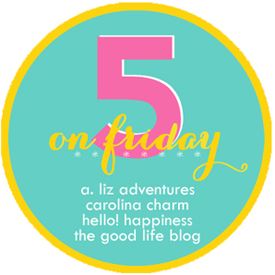 -I finally get my oral surgery next week! I'm so scared but SO excited to finally be on the path to getting rid of this partial. I'm very nervous that the tooth implant will not look right and the periodontist didn't help me much by telling me to really inspect it and look at it naturally, not up close. Ah well. I'm ready to get it done!
-I'm trying to figure out what colors to go with for the girls' playroom. I was thinking primary colors since most toys come in red, blue and yellow. Then I was at Hobby Lobby this week and saw some really cute artwork and decor that was in light pink, greens and blues. I need inspiration because I want to get things started. I want them to have a whole wall of bookshelves or some type of shelving for books. That needs to include a little reading nook with pillows, blankets, etc. I also want an art area that has a table and places for paint, crayons/pencils, paper and a place to hang up their artwork. Suggestions? Websites other than Pinterest?
-I am STILL sore from my surgery. Riley is 9 weeks old. You would
think
I would be better by now. I asked my OB about it and she said it's very normal since they pull on my muscles a lot. I feel like I've done roughly 6000 situps. It makes exercising pretty hard considering the cardio workouts I do involve mountain climbers and that sort of thing that involves using your belly.
-Riley has slept 8 hours straight every night this week. She goes to bed between 7-8 and has been sleeping until 3 or 4am. Now if she will just drop the 3/4am and the 6am feedings and sleep until 8 like her sister!
-We are having Easter pictures made of the girls on Saturday at a local strawberry farm. The peach trees are in bloom and they look gorgeous in Carrie's pics from last year at the same place. A sweet couple bought them matching dresses a while back and we will use those for pics. So cute!