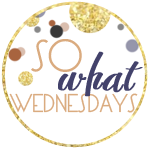 I haven't done one of these in quite a while. These are things that you are saying SO WHAT! to today!
..if I hung up on the customer service girl earlier. I called with a question and she was being a jerk. If you can't deal with people and their questions, don't work with people. Just sayin'.
.. if I just printed a 93 page St Patrick's Day printable. They are so fun for Madison and they have all the things she's learning now(numbers, letters, tracing/writing, etc)
..if I need a cleaning schedule to keep my house clean. I try to have about 15 things going on at once and about 12 of them get half done. I am going to start using my schedule again so I can keep everything up.
..if I've just now caught on to Jimmy Fallon. He's hilarious! I'm also loving Seth Meyers' late night show. I don't watch every episode of either but I will if there's someone on that I like.
..if I bought 20 lbs of rice to put in Madison's sand/water table(to put inside) and only used less than half of it. I had no idea how much I needed and was afraid that I wasn't going to get enough. Well I solved that problem. I guess rice will be for supper every night until it's all gone. You're welcome, honey.