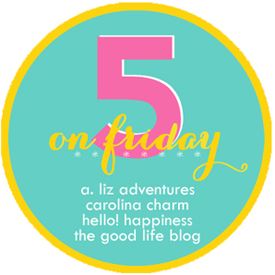 I'm joining
Darci, April, Natasha and Christina on the Friday fun.
All you have to do is...
1.) Write your post about any five things you want.
2.) Share the logo on your blog and link back.
3.) Link-up at the bottom of the post so some new readers can check out your five things and say hello!
(one) I have fallen in love with Parenthood. I have been watching 2-3 episodes a day. I can't believe I missed it when it previewed. I cry every.single.episode. It's SO good and if you haven't watched it, Netflix it asap. Alan and I have also started Lost together. We have watched 4 episodes in 2 nights. I'm glad we have another show we can watch together. It's very good too. Lots of surprises already!
(two) The weather has been so nice this week but I'm thinking Madison has allergies. I kept her from school on Wednesday because of her runny nose and cough but she seems better now.
(three) Spring Break is next week. I need daily activities for the girls. Crafting, library, parks, etc. Hoping I can come up with some sort of schedule or activities to keep her happy and busy that week.
(four) I have a massage tomorrow that I'm looking forward to! I haven't had one since December when I was 9 months pregnant. Going from monthly massages to not having one in 3 months does a wonder on my muscles. I know, I know.. first world problems.
(five) I have the itch to plant flowers and my garden. I'm scared we will have another cold snap though. Hopefully in the next few years I will have a couple of more above the ground gardens. I would love to grow all sorts of fruits and veggies. I also want to get into doing winter planting.