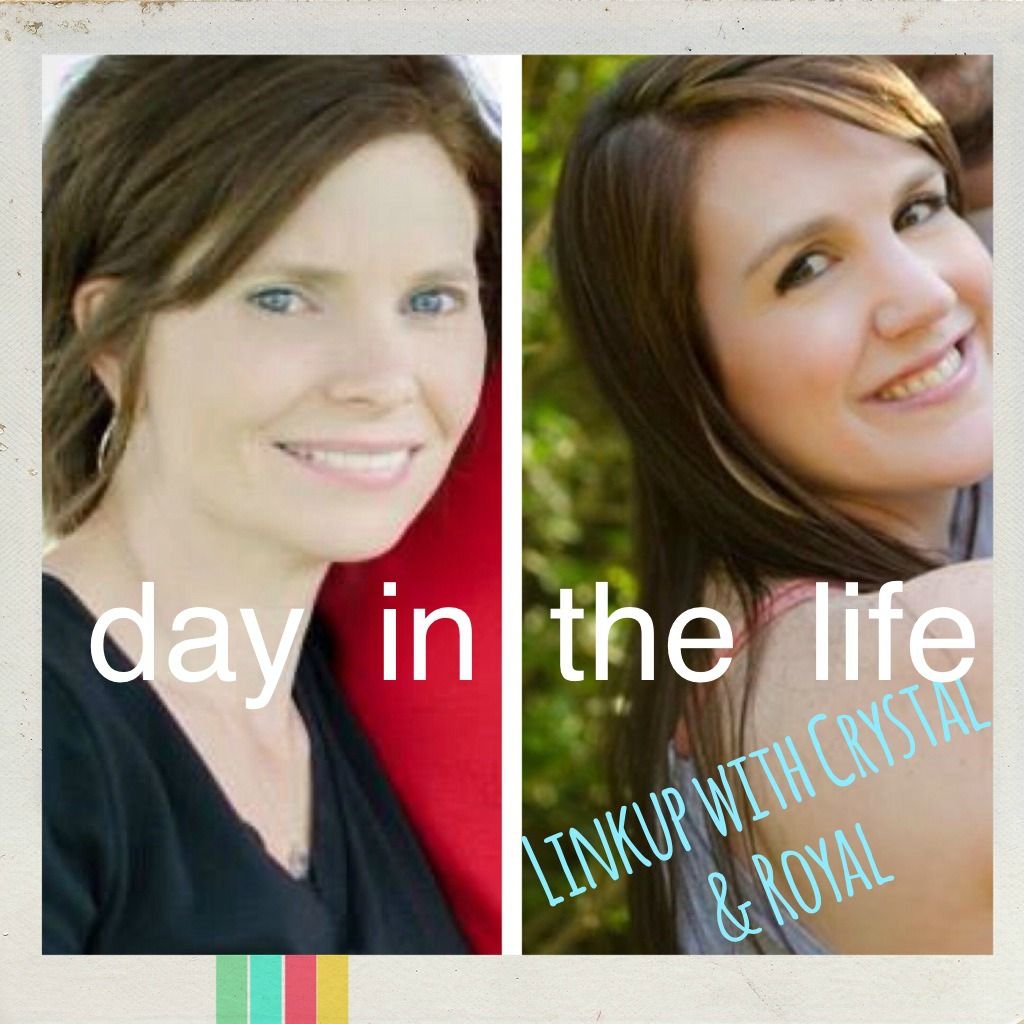 Thanks for joining in our very first linkup! Make sure to grab our button above and put it on your post and then link up below!
Here's my Day in the Life from this past Saturday..
8:45am- Madison got up around 7:30 and she came in our room to lay down. She played with her apps on the phone for a bit and then Alan gets her up and changes her diaper, gets her morning milk ready and I lay in the bed catching up on social media. He fixes his coffee and I finally get up and fix mine and start some bacon in the oven while he feeds the dogs and Madison plays with her stuffed animals. Alan runs the trash to the dump and Madison plays in her room. I cut Madison a peach up, give her yogurt melts but she insists on a food pack(orange and banana). I fill up the dog and cats water bowls and the first round of bacon is ready so I pull that out and put the second round in. Alan is back and him and M are playing. She loves when he pulls Barney and Mickey around the house on a towel and she chases him around laughing.
10am- I fix myself a peanut butter wheat bagel and some bacon. Alan then goes to fix him a bacon and Swiss bagel. We eat while M watches Pet.TV. He starts the dishwasher, I get another cup of coffee and he takes M to the playroom to play while I put a load in the washer, clean her room, put up her laundry and paint her letter and clock-all while ITunes Radio plays(Muse radio)
1:30pm- I have gotten ready while Alan plays with M. I take her and our dog, Wilma outside for a few minutes while Alan cuts grass. We come inside and I give M a dose of meds and some honey (she's had a bad cough) since she will be napping soon. She eats her peach from this morning and I put her down for a nap. I fix myself an apple and boot the computer up while the tv is on. I print some recipes from Pinterest, pin a few things, update a few blog drafts and delete some pics from the computer and rearrange my picture folders. Alan comes in around 1, takes a shower and I get Madison up so we can leave for a birthday party .
7pm- We went to E's birthday party, Walmart, Lowes and are now home. It's Alan's bath night and he gives her one early. I take a shower while he does that. He gets her ready for bed and then he goes to take a shower. I fix her a plate of cheese and carrots and give her a food pack. She devours the pack and some cheese while watching Zou.
10pm- Madison went to bed by 7:30 and I had a bowl of cereal and Alan had a salad for supper. Neither of us were real hungry since we ate at E's birthday party. He starts the football game and I play on my phone until basically 10:00. Candy Crush, Pinterest, texting
Royal
, Instagram, Facebook and blogs. I book our maternity session with our photographer at a nearby strawberry/pumpkin farm for November during that time too. I am bored and tired so off to bed I go while he finishes the game. Goodnight!