We don't have a
lot
going on that doesn't involve the babe, but here's what us adults have been doing:
-My niece, Brittany, had her baby, Kylyn Lee on Friday, February 24. He was born at 1:21pm and weighed 8.4 lbs and was 20" long. She had a pretty rough labor & delivery but she didn't push long and she and Kylyn are doing great. Here are some pictures of Kylyn:
He was 2 days old here
Me, Madison, Kylyn and my mom(Kylyn's Great Grandma)
-I had my 2nd camera class this week. It's a lot of info but I hope I'm catching on! I never knew it involved so many things. At least I have a really cute little girl that I can practice on. It's really hard leaving Alan to take care of Madison full time for 3 hours after working 12 hours and me not being there for her bedtime routine. At least I only have 3 weeks left! Here are some pictures I took inside. It was pretty cloudy out and my subject is pretty wiggly but I'm trying to catch on! These are all unedited.
The White Balance on this one was Shade.. Made it too dark/yellow.
Auto White Balance(set on daylight)
Shutter speed: 1/30
f/stop: 5.6
ISO 800
Auto White Balance(set on Cloudy)
Shutter speed: 1/25
f/stop: 5.0
ISO 800
Auto White Balance(set on Cloudy)
Shutter Speed: 1/25
f/stop: 5.0
ISO: 800
Auto White Balance(set on Cloudy)
Shutter speed: 1/30
f/stop: 5.0
ISO: 800
-We are looking at getting an elliptical this weekend. We haven't decided which one to get but we know we need something as neither of work out. Alan was getting a ton of exercise playing tennis but that has ended since driving 2 hours there and back got old really fast and with Madison, he wouldn't see her awake 2-3 days a week. Hopefully we can get him in a few tournaments this summer and teach Madison some things!
-It's Spring consignment season! I took all of Madison's old baby things to the consignment sale this week. This shop is seasonal and is open from March 8-31, which is the longest seasonal sale around here. It was an experience as the owner didn't tell me in our email conversation that they couldn't take any more clothes so when I got there and tagged them all, the lady said they didn't have room. Argh! She said they would hold onto them and put them out as things sell. Tagging them all was quite the experience too. I had a total of 150 items, between clothes, a few toys, books, her swing, bedding, bibs, mittens and socks. I had to tag them all with my consignor number, the size and number of pieces. I did that at home by writing on masking tape. When I got there, I had to add an additional tag with my number and the size, which is the tag they will rip off to keep track of my items that sell. Crazy. Next season, I will buy a tagging gun and have it all done. I was there 2 hours tagging my stuff! I had no idea it was so involved! Hopefully everything will sell! I'm excited to go next week and get Madison some new clothes too! I think there are about 5 consignment sales going on in the next 2 weeks. That makes me happy!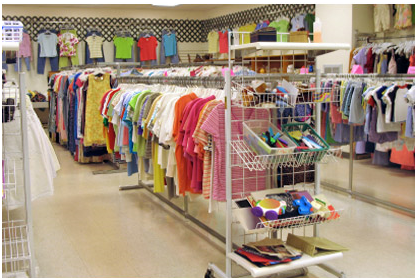 via
(not the shop I go to, just an image)
Things we have coming up:
- Madison's 6 month pictures are next week. I can't believe she will be 6 months!
-Madison's 6 month appointment is also next week.